Tour de France Wine Tasting at the Gherkin...No Bicycle Required!
Friday, July 14, 2017 - 18:00
We hope you can join us to celebrate this momentous race at the Gherkin. Just like the real thing - we'll be at altitude with breath taking views, but on our route the pace is relaxed and water bottles are replaced with wine glasses. As you pass through different 'regions' tasting fabulous wines along the way you will enjoy matching canapes whilst gathering wine information on route. There will also be some fantastic prizes for the winner of our Tour de France quiz!
Training Camp - Provence
2015 Cuvée Minotaure Rosé, Domaine du Grandpré & Grand aperitif Provençale / Fougasse / crudities / tapenade / anchoiade / chervelle de canut / pesto/ olives
 
Stage 1: Flat Stages - Nantes to Sancerre
2016 Sauvignon de Touraine, Domaine de la Renaudie & Oysters / shallot / vinegar / lemon
 
Stage 2: Time Trial - Cote d'Or
2016 Macon Charney, Didier Tripoz & Escargots / parsley / garlic
 
Stage 3: Flat Stages - Chablis to Perigord
Semillon, Chateau Calabre & Foi gras / croustines
 
Stage 4: Moutain Stages - Perigord to Ventoux
2014 Cotes du Rhone 'Les Paroles de Femme' Domaine Galevan & Saucisson / Truffles lard / gherkins
 
Stage 5: Sprint Stages - Ventoux to Paris
2015 Pinot Noir Didier Tripoz & Entrecote / frites / Béarnaise
 
Final Stage: Grande Finale - Champs Elysees
Champagne H.Blin Brut Magnum & Macaroons
We hope you can join us for an informal and fun evening of discovery. There will be some truly wonderful wines to taste and some seriously delicous food to enjoy, so palates poised and glasses at the ready - no previous training required.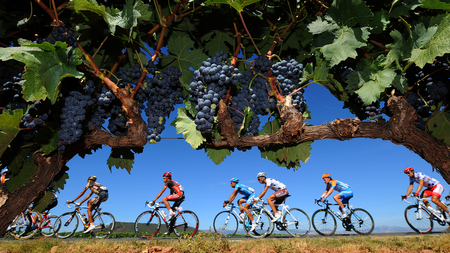 18:00 Start
£69 per person
Tickets purchased directly through Searcys Gherkin - please email: theclub@searcys.co.uk